What We Teach – Curriculum Overview
Here is an overview of the material that we cover in our martial arts classes both for children and for adults. Your lessons will include three critical components. Click on each one for a more detailed explanation. You may also want to see the belt promotion requirements.
The first component is the Traditional Taekwondo Component. Here we practice the forms, one step sparring and techniques that are practiced all over the world and have been practiced and passed down through the generations. The emphasis here is on power, accuracy, and technical proficiency. There is not much evolution of technique in this component.
The second component is the Sport Taekwondo Component. Here we compete in the Olympic sport of Taekwondo. We follow the competition rules that limit available techniques. Because competition is done in a public venue, techniques evolve rapidly as people see what works and what doesn't. The emphasis is on speed and utility. We have a sparring competition team for serious students.
The third component is the Practical Self Defense component. Here we practice our grappling and other associated techniques. There are no 'rules' in the street situation and the supreme ideal of this component is utility— whether or not a given technique works in a given situation. Thus techniques evolve fairly rapidly in this component as well.
These three components represent the core of our school. However, we also teach Weapons Training and Demonstration Team Training. These two disciplines are optional and not included on belt promotion tests.
We try whenever possible to engage in creative and innovative training. We often train in local parks, and every summer, engage in mountain training and wilderness survival training. We realize that it's no good to train in martial arts for years, and then get lost in the forest. Exceptional students may also be able to participate in the groundbreaking instructor training course developed by KAT.
Overall, the structure of the training is very beneficial to students with ADHD, ADD, or even Autism Spectrum Disorders. The training also provides numerous health benefits.
---
One of the main foci of our school is on the Traditional Taekwondo techniques,those techniques that have been handed down from generation to generation. These techniques include forms, board breaking, and hand and foot techniques. Students must show proficiency in the traditional parts of our art in order to advance in rank. We primarily use WTF techniques but have some ITF techniques as well.
We are also traditional in that we stress self discipline and self improvement. Students are required to submit their report cards before moving up in rank, and those who need extra help will be identified early and given free corrective tutoring by parents, instructors, and older students.
Our focus on traditional techniques embodies the school philosophy of A Mind in the Future and a Heart in the Past.
---
KAT offers Sport Taekwondo training for all interested students. KAT has long been at the forefront of Olympic Sport Taekwondo and has many state, national, and international champions. Sport Taekwondo training is valuable because it teaches many skills that are necessary in self defense. These skills include physical fitness, timing, a sense of distance, the ability to analyze an opponent and the abilty to be struck without losing control of the situation. Serious athletes will want to join the KAT Competition Team, where they will be challenged to reach their full potential.
We will also mix Olympic Style Sparring with grappling, with multiple opponents, with obsticles, with teams, or with other objectives, such as protecting a person or object. This will help us use sparring to its full potential of making us better martial artists. Beginners and Little Tigers do not do contact sparring, however we will begin to make them ready so that when they are old or advanced enough, they will know what to do.
We also have a set of 4 Electronic Body Protectors, top of the line technology that gives us an edge in sparring training.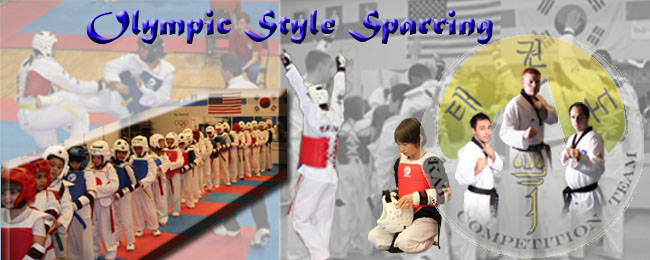 Practical Self Defense/Grappling
The grappling classes for practical self defense is one of the things that sets our school apart from others. These classes teache students what to do in real self defense situations and allows our students to subdue opponents without injuring them or having the potential to exchange bloodborne pathogens.
There are two main types of martial arts; striking arts (Taekwondo, Karate, Boxing, Capoeira) andgrappling arts (Wrestling, Brazilian Ju-Jitsu, Judo, Hap Ki Do). The KAT grappling program is a mix of techniques from these various grappling arts.
Learning grappling is extremely important in self defense situations. Many real fights will end up going into a clinch and to the ground. "Ultimate" fighting tournaments pitting all styles together are almost always won by people with strong grappling skills.
We are training grappling to supplement our Taekwondo training, but Taekwondo will always be the heart of our program. Our goal is only to learn enough to be able to submit an opponent who is a superior striker or to avoid being submitted by an opponent who is a superior grappler.
Attire
Grappling competitions are broken down based on whether the competitors wear a uniform or not. As our main focus is self defense, we mainly focus on techniques that work whether or not the opponent is wearing a uniform. You may wear your regular uniform, a t-shirt and dobok pants or t-shirt and shorts. Males are advised to wear a groin cup. Knee pads may be helpful for takedowns but are not required.
The grappling program is taught in all locations. We also have a special 'floating' floor in our littleton, CO Karate School.
---
KAT Tiger Cubs Program
The KAT Tiger Cubs Program is a pre-martial art program designed especially for students for 2 to 3 year olds. Parents get to take the class with their children. Working with young children at this critical stage in their development can have lifelong benefits. The class lengths are appropriate to these children's developmental stages.
KAT's long awaited 2-3 Year Old 'Parent and Me' program is finally here!
Students will complete five modules (Each module has 8 classes)
Balance (Stand on one leg, walk on a wobbly beam, etc.)
Coordination (Strike pads at different angles and distances, predict movement through the air)
Confidence (Speak loudly, stand straight)
Focus (Ability to find things despite distractions, ignore external input)
Safety (Look both ways when crossing the street, stranger danger, etc.)
Parents take the class with their children. There are no doboks(uniforms). Parents and kids wear a special t-shirt, depending on how many modules they have completed (White, Yellow, Green, Blue, & Red.)
Sign up for more information here.
KAT Little Tigers Program
The KAT Little Tigers Program is a pre-martial art program designed especially for students from ages three to five and a half (3- 5 ½ ) years. Working with young children at this critical stage in their development can have lifelong benefits.See this study about how teaching self control at this age contributes to lifelong success. The class lengths are appropriate to these children's developmental stages. Course content focuses on teaching children:
• Gross/Fine Motor Coordination / Strength / Flexibility
• Martial Arts Basics
• Basic Stances
• How to Stand Still
• How to Form Lines
• How to Share, Take Turns, Etc
• Running and Jumping Skills
• Proper Falling Technique
• How to Get Along with Others and Teamwork
• How to Listen and Watch Instructors
• How to Talk to Strangers
Children who complete the Little Tigers program will be ready to enter the regular training program with a special head start. In fact, multiple Little Tigers have gone on to become national and international champions. The Little Tigers use a series of striped white belts that are awarded to them for special accomplishments. These children do not use contact sparring. In the Littleton school this program is called Little Dragons and in the Loveland School it is called Little Warriors. Younger children should try to Tiger Cubs program with their parents.
---
KAT Children's Program
The KAT Children's classes are a key part of our school. Children will learn a number of important things
• Gross/Fine Motor Coordination / Strength / Flexibility
• Martial Arts Basics
• Basic and Advanced Stances
• Focus and Discipline
• How to Defend Themselves with Striking and Grappling
• How to Share, Take Turns, Etc
• Running and Jumping Skills
• Proper Falling Technique
• How to Respect Elders and Higher Ranks
• How to Recognize Dangerous Situations
• How to Escape from Holds and Locks
The children's class is a full martial arts program, and they will learn all of the techniques, depending on their experience and belt. They are also able to compete against other schools or perform on the demonstration team. The best way to see if KAT is right for you and your child is to come in and try a free class today. Fill out the form below to receive more information and a free trial class.
Weapons are a great supplement to any martial arts training and will go a long way towards making us more complete martial artists. With proper respect for the weapons and the people using them, weapons classes will also be a safe way to have fun. Safety is always our number one priority.
We will eventually be teaching many different weapons, but we are currently focusing on three main ones: nunchucks, bo staff, and Japanese sword.
We have a limited number of school weapons, but each student should purchase their own weapon that will fit them.
Students are also allowed to make creative weapons forms and use them in competitions.
KAT White Tiger Force Demo Team

The award wining KAT White Tiger Force demonstration team provides an exciting, dynamic show with performers aged from children to adults.The team has performed for numerous groups/venues, a sampling of which is given below. See more information about the team under the image and more videos to the right.

Recent Performance at Invesco Field

Demo Camp for Skills Building
---
---
---